As the market requires different cable ducts depending on the area of use, we offer several brands in both PVC and halogen-free that meet different approvals according to your needs.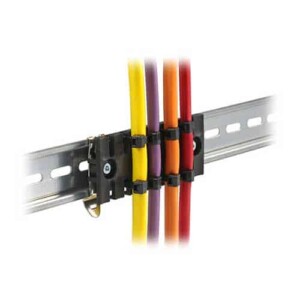 By using our strain relief plates in combination with cable ties, you can quickly assemble, organize and strain relief cables according to EN 62444.
Socket for snap-on mounting on TS35 rails. Simple and flexible solution when you e.g. need a service socket in the enclosure or control cabinet. These are often combined with our compact control cabinet lighting.
Reliable products with a long service life for installation in e.g. control cabinets or machines provide a high-quality and professional installation. With our experience and competence, we can offer the right products for your particular application.
ANVÄNDA VÅRA MONTAGEPRODUKTER FÖR ATT FÄRDIGSTÄLLA DIN APPLIKATION
Våra montageprodukter kompletterar ditt apparatskåp eller din maskin genom att organisera, fästa, dragavlasta och märka upp allt från kablage, rör, el-komponenter och ritningsscheman.
FRÅGOR OCH SVAR OM MONTAGEPRODUKTER
Erbjuder ni kundanpassade DIN-skenor eller kabelkanaler?
Alla våra DIN-profiler och kabelkanaler kan kundanpassas efter ditt behov. Vi erbjuder även kabelkanalkap och DIN-profilkap om du ser lönsamhet med att göra enklare anpassningar själv!
Har ni något smidigt sätt för att dragavlasta flertalet kablar?
Genom att använda våra dragavlastningsplattor från Icotek, kan du i kombination med buntband montera, organisera och dragavlasta flera kablar enl. EN 62444. Dessa plattor kan snäppas direkt på DIN-profiler alternativt skruvmontage direkt i plåten.